Various fully automatic packaging lines to guarantee quality and continuity
Raaskal has 2 different packing locations and a large in-house team of packing staff. Our packaging team has various fully automatic packaging lines to guarantee quality and continuity. In this way we can always meet the rapidly growing demand for our products and those of our customers. Raaskal also distinguishes itself in the field of packaging by not shying away from customization. Our team of packaging employees makes almost every wish possible by combining manual work and automated solutions according to the wishes of our customers.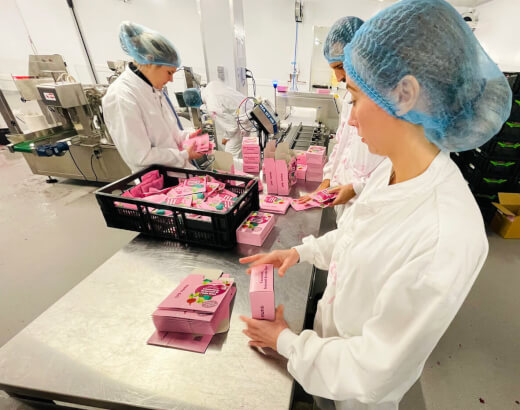 Meeting all legal requirements
Through thorough communication and registration between our internal systems, combined with the knowledge of our quality department, we also ensure that all products packaged at Raaskal meet all legal requirements. This includes not only declaration and traceability, but also multilingual labeling or various repackaging solutions for trading or order units and various other possibilities.
About Raaskal
A young, innovative and driven company with a contemporary view on food. The tailor-made partner for private or white label productions and product development. Fully certified and widely developed. From high rotating volume productions on a large scale to small batches or occasional productions for startups. Brash, different and innovative but with a clear vision. Competitive but with the motto, quality always wins!